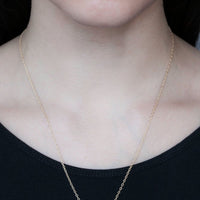 MOONAGE PEARL NCKLACE- SILVER
Sterling silver necklace with 4.5mm freshwater pearl. Inspired by the moon and David Bowie. 7/16"L pendant on 16" or 20" chain Made by hand in NYC from recycled metals. Ready to ship within 2 weeks.
Your order helps plant trees
We care deeply about the planet and creating a business that gives back to nature. That's why we're honored to be partnering with One Tree Planted to plant a tree for every item we sell. Trees clean our air and water, create habitats for biodiversity, contribute to our health and wellbeing, and create jobs for social impact.